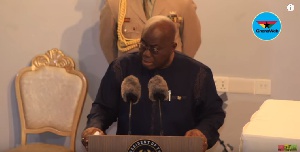 A member of the Ashanti Regional Communication team of the New Patriotic Party (NPP) Opoku Mensah Omens says the incessant propaganda of set by the opposition NDC can't stop Akufo Addo's government to fulfill its campaign promises.
He states the NPP government has put in place adequate measures which will transform Ghana's economy within its mandated four year period.

Sankofa Reforms Movement earlier this week stated that the flagship programme of the Akufo-Addo's government, one-district-one factory will be a ''white elephant project if not implemented well".

The group argues the programme will collapse if factories are built without the necessary raw materials being made available.
But Opoku Mensah tells Abusua News Nana Ama Annor that the NPP government led by Nana Addo is committed to fulfilling all promises made to Ghanaians prior to the December 2016 polls.

"We will not take Ghanaians for granted, NPP government will deliver all the campaign promises before four years" he said.

He also added that the one million, one Constituency policy per year policy will be launched in July to help fight poverty in the country.