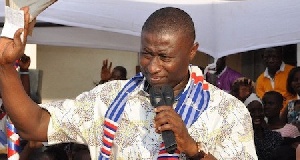 The governing National Democratic Congress(NDC's) supporters at Okaikoi Central in the Greater Accra region have questioned the loyalty of the sitting New Patriotic Party (NPP) Member of Parliament(MP), Patrick Boamah, towards the  unity  and development of the party in the area.
According to the NDC, the MP is not loyal to the course of the party and for that matter Nana Addo Dankwa Akufo-Addo's presidential ambition but that all he is concerned about is his personal ambitions to be MP for the area, the NDC revealed.

The NDC chairman for Okaikoi Central threw this challenge when he took his turn to address party supporters at Botwe, a suburb of Abeka Lapaz last Sunday to introduce the party's parliamentary candidate Abdul Rashid Issah to the teeming supporters of the party in the area.

He said that the NDC has picked up reports on the ground that the MP has been going about telling the electorate to vote 'Skirt and Blouse" to wit vote for him and vote for Mahama in the December polls.

The mammoth rally was attended by Andrews Okaikoi, former parliamentary aspirant for the Constituency in 2012 elections, Abdul Naziru, member of the NDC communication team and Special Assistant to the Minster of Trade and Industry, Dr Ekwo Spio- Gabarah among others from the Constituency  

Alhaji Ibrahim Musah, popularly known as Aval said this disloyalty on the part of the MP has accounted for the refusal of the flag bearer of the NPP as part of his tour of Greater Accra Regional not to endorse the MP's candidature.
He said the NDC is reliably informed that the MP under the cover of darkness has been telling the constituents to vote for him and vote for President John Dramani Mahama.

He said this attitude on the part of the MP is divisive and has therefore led to a divided NPP front in the Constituency.

He reminded the constituents not be swayed by the antics of the MP in claiming ownership to any good thing that was brought to the Constituency.

He said a couple months ago they picked -up signals that the MP is laying claims to the construction of a public toilet being constructed under the auspices of the Accra Metropolitan Assembly (AMA).

He explained that it the likes of the NDC PC who went to lobby the Assembly to have the project constructed at its current location in the area and not the MP.
He denied claims by the MP that the project is his baby in the area adding that these are one of tactics the MP has been using to confuse the electorate.

He urged them to be wary of the antics of the MP as December 7, approaches saying that it is the expectation of the NDC that many of such gimmicks will be emanating from the camp of the MP going into the elections.

Andrew Okaikoi took the opportunity to appeal to the electorate vote for the President and vote for the NDC Parliamentary Candidate (PC) adding that no "Skirt and Blouse'' in this year's elections.

The NDC PC on his part told the supporters to disregard the tantrums of the NPP in the run-up to the December 7, polls as he has shown disloyalty to his own party that brought him to power