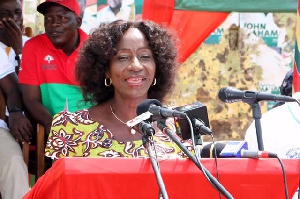 Tue, 25 Sep 2018 Source: Coffie Emmanuel
A founding member and an aspirant for National Vice Chairperson position of the opposition National Democratic Congress (NDC), Madam Sherry Ayittey has promised to make life more comfortable for members of her party who have been rendered jobless by the President Akuffo Addo's led administration.
According to the astute politician who is also the immediate past minister for fisheries and aquaculture development during the Mahama administration, despite the current economic hardship, NDC members will "drink milk and honey" if she is elected as vice chairperson of the party.

Outlining her vision for the party immediately after her vetting, Sherry Ayittey, a former minister for health said, she will embark on an initiative to expand apprenticeship and vocational training programs that will put more NDC members back to work.

Madam Sherry Ayitey said she would do this by encouraging partnerships between technical institutions, vocational training centers and philanthropists in various communities across the country to train young people especially NDC supporters for a vast array of self employed jobs.

She said 'the earn-as-you-learn' program would give members of the party at the grassroot level an alternative to the limited civil servant jobs which is now available to only "family and friends" of President Akuffo Addo.

Technical and Vocational Education training is one of the key components needed for the development of any nation especially the developing nations like Ghana.

Traditionally, this area of education and skills training has not received much attention and has been looked down-on, as one of the last resorts, should one fail to gain entry into University.
But Sherry Ayittey is determined to make it a priority area and an integral part of her agenda to create jobs for teaming members of the party who are unemployed.

"My contribution to job creation would be to ensure that we would have more vocational, skills training centres at various communities that can train young people and make them self employed, we want to ensure that they are trained in a way that at their various communities, they can create employement for themselves and others", She said.

She continued "We would link-up with technical institutions to design short programs fir the youths and look for philanthropists to assist and sponsor such training institutions".

She also indicated her readiness to also mobilize all women associations affiliated to the NDC under one leadership in the party to strategize and recapture political power for the NDC in 2020.

She expressed optimism of winning the NDC vice chairperson position with landslide victory given her track records as a woman of high integrity, visible and a very hard working person.

"I am a more visible, have done lots of work, my name, my face will be on the ballot paper and it will guarantee my victory", Sherry Ayittey said.
Source: Coffie Emmanuel