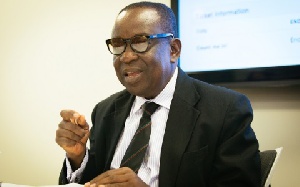 The Former Minister of Interior Albert Kan Dapaah has described as illegal the ruling National Democratic Congress' (NDC) Green Book which seeks to tout its achievements since the party assumed power in 2009.
Members of NDC have been using the Green Book which captures their developmental projects as a yardstick to convince the electorate to mandate President John Dramani Mahama another four-year term in office during the December polls.

He believes the projects executed by the NDC government are freight with bribery and corruption alleging that some were overpriced.

Speaking on Abusua FM's Abusua Nkommo hosted by Kwame Adinkrah, the former Chairman of Public Accounts Committee (PAC) explained that not a single project captured in the Green Book went through Auditor General's Department before it was published.

He wondered how the various contracts were awarded to the contractors and the amount paid to these contractors, suggesting that the Auditor General should have audited the Green Book itself.

Mr. Dapaah further questioned the number of bidders who were involved in the procurement processes before the projects were awarded.
According to him, President Mahama and the NDC are abusing incumbency for refusing to allow the Auditor General announce its report on the Green Book before publishing.

'The Auditor General should tell us how the Green book was audited and certified so that Ghanaians will know the money spent on each project. None of the projects went through Auditor General's department, how were the contracts awarded. How many bidders were involved, if it was sole sourcing how did they arrive by that. The Auditor General has not come out with any report so why is the Green Book out, and NDC using it to seek votes from Ghanaians? The President is abusing the procurement audit and law, the government should account for the projects because it used tax payers' monies in executing these projects,' he said.

The Director of Financial Accountability and Transparency-Africa indicated that series of enquiries at the Auditor General show that the Green Book has not been submitted to them for auditing.

He said the country has reliable laws but the systems do not work, saying a chunk of the country's funds are embezzled through procurement processes.

He bemoaned why corrupt officials are not prosecuted for stealing from State coffers after PAC announces its reports.