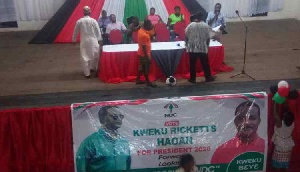 There was mockery for Member of Parliament(MP) for Cape Coast South constituency, Mr. George Kweku Ricketts Hagan who is also a flagbearer hopeful of biggest opposition party in Ghana when his National campaign Launch ended up a flop.
Ricketts-Hagan's undying passion to lead the opposition National Democratic Congress (NDC) towards the general elections 2020, suffered a blow with a serious low turnout in his own constituency where he intended to launch the national campaign.

In fact, MyNewsGh.com's Central Regional Correspondent reported that turn out was so abysmal at his campaign launch in Cape Coast that he himself failed to show up at campaign launch held in Cape Coast Town Hall.

Mr. Ricketts Hagan who sees himself as a better candidate to lead NDC into the future was expecting about 855 delegates to attend the event to announce his readiness to lead the party to begin his campaign but less than 50 delegates attended making him postpone the campaign launch.
Mr. Kweku Ricketts Hagan who is contesting to become the flagbearer on the tickets of the NDC will be competing with Dr. Ekwow Spio Garbrah, Prof Joshua Alabi, Sylvester Mensah, Goosie Tandoh, former President John Dramni Mahama and possibly, Stephen Atubiga.

While the campaign launch flopped, members of the NDC present took turns to address the media about happenings in government.

The Cape Coast South constituency Secretary of NDC, Mr. George Arthur lambasted the ruling New Patriotic Party (NPP) for "super-incompetent governance, criticizing in particular the introduction of double track system intiatied by the President Nana Addo Dankwa Akufo Addo.