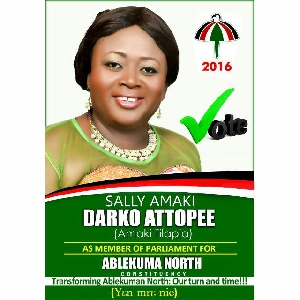 Mon, 10 Oct 2016 Source: Emmanuel Oscar Ugoh
The elections are fast approaching and each political party is looking to clench as many sits in parliament as they can.
Sally Amaki Darko Attopee, whose parliamentary candidature is being contested on the NDC's ticket, seems to be taking a strong steps in her efforts to clench the sit.

Madame Tilapia as she is fondly called, has been on a daily door to door campaign for months now, encouraging the constituents to vote on policies that ensure a secure Ablekuma North.

Mrs. Sally Amaki Darko Attopee, who is an educator and serves as the Asst. Director of Education/Lead Facilitator at the Ghana Education Service, has outlined key points in her manifesto, for the consideration of her constituents.

The release of the ten point highlight, comes ahead of her campaign launch on Tuesday 12th October 2016.

The launch would coincide with President John Dramani Mahama's visit to the constituency.

The highlights covers the areas of health, education, social security, sanitation and community growth and are listed below.
1. Ultra-modern ICT library for Ablekuma North.

2. Youth development and accessible counseling in Ablekuma North.

3. Job Facilitation and secure employment for Ablekuma North.

4. Ablekuma North Sports and development center.

5. Remedial Courses for poor students in Ablekuma North. 6. Entrepreneurial Support? Attractive business opportunities in Ablekuma North.

7. Low interest loans? Mentorship and Seminars? Incentives for indigenous Ablekuma North start-UP businesses.
6. Waste management, segregation and community beautification in Ablekuma North.

7. Ablekuma North community recreation parks.

8. Government interventions for poor and vulnerable in Ablekuma North.

9. Lobby for drains and roads in Otaten, Sakaman, Odorkor, Kwashieman and parts of Awoshie.

10. Lobby for public clinic for Ablekuma North.
Source: Emmanuel Oscar Ugoh