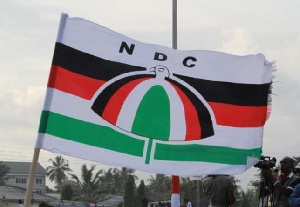 The National Democratic Congress, (NDC) has sacked four of its executives in the Lawra Constituency in the Upper West region for contributing to the party's poor performance in the 2016 presidential and parliamentary elections which saw the defeat of its parliamentary candidate, Bede Ziedeng.
The four include the Constituency Secretary, Philip Bagyo, Deputy Youth Organizer, Sampson Botee, Women's Organizer, Hajia Bintu Alhassan, and the party's Communication Director in the constituency.

According to the party, they were sacked because they supported the dismissed former Member of Parliament of the area, Sampson Abu, who contested as an independent candidate in the last parliamentary elections held on December 7, 2016.

The Lawra Constituency Chairman of the NDC, Joshua Lotaa, said the actions of the dismissed executives contributed to the defeat of the party's parliamentary candidate Bede Ziedeng.

He noted that, the constituency secretary as well as the other executives, received money and logistics from the party to boost their campaign, yet failed to utilize the resources for the purpose to which they were given.

"The Secretary received resources as well as a brand new motorbike to do party work for the constituency, but he never campaigned for the party. All that he did was to campaign for the independent candidate and at the end of the day we lost the seat. So after the election during the review, everybody accused the secretary of breaching the party constituency for his action, same with his other colleagues – All of them received money for campaign," he said.
The party in a separate statement announced the replacement of the dismissed executives with the following:

"Madam Mary Zimaal has been appointed as the Constituency Women Organizer to replace Hajia Bintu Alhassan whilst Madam Seraphina Banongwie has also been appointed Deputy Constituency Women Organiser to replace the late Agnes Sorinye. Mr Yussif Zakaria has been appointed Deputy Constituency Youth Organizer in place of Mr. Sampson Botee. Mr Michael Tangkur has been elevated from Deputy Communications Officer to Constituency Communications Officer whilst Mr Muazu Adams has been appointed Deputy Constituency Communications Officer."

"Mr Frederick Yirlabuor, Alhaji Baba Wawaa, Aloysious Daanoma, Clovis Saame, Nicholas Nangzie, and Faatol Dominic, have all been appointed as members of the Executive Committee of the party in accordance with article 49 of the NDC constitution," the statement added.

Following the NDC's poor performance in the 2016 election, the party formed a 13-member committee to investigate the cause of the party's historic defeat.

The committee was tasked to submit its report within 90 days after its inauguration.