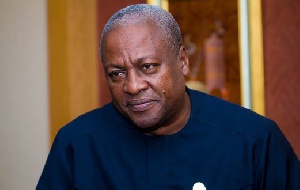 Members of the largest opposition party, National Democratic Congress (NDC) should be ashamed of themselves over their just ended "Unity Walk" that saw active participation of former president John Mahama; that is the verdict of Deputy Chief Executive Officer of the Ghana Export Promotion Authority.
Mr. Eric Amoako Twum said the NDC should have rather gone to the North to apologize to them for failing to fulfill all the promises they gave to the people of the three northern regions while in office instead of embarking on a walk.

Scores of NDC loyalists and sympathizers joined former President Mahama and his team for the "Unity Walk" which was said to be part of the NDC agenda 2020 campaign strategy.

Some of the party bigwigs who participated in the event included the General Secretary, Johnson Asiedu Nketiah, the Minority Leader, Haruna Iddrisu, the Former Chief of Staff, Julius Debrah, the MP for Tamale Central, Inusah Fuseini, the MP for Tamale North, Alhassan Suhuyini, and a former Northern Regional Minister, Moses Bukari Mabengba.

Moment after the walk, an activist of the NDC Dela Coffie was reported to have said that walk that was organized on Saturday September 9, in the Northern Regional Capital, Tamale has proven counterproductive as it has left the party divided.

On TV3's morning show programme, New Day, hosted by Bright Nana Amfoh on Monday, Mr. Amoako Twum weighed into the argument: "The NDC should be ashamed of the walk when the SADA enclave was one of the classic failures in the NDC government".
He added "I would have expected that you go there and apologise to the people that we promise you but we were unable to fulfill rather than going there to show your fleets of 4X4 wheel drives", the Deputy Chief Executive Officer of the Ghana Export Promotion Authority, said. But a member of the National Democratic Congress communications team, Abraham Amaliba rejected the disunity claim.

"If some executives of the NDC were not there does not mean we are not united" he asserted. Lawyer Amaliba was rather unhappy the government is not doing enough to fight corruption in his government.

He said "talking about corruption, this is the first time in the first 6 months that right on the nose of the President, massive corruption has occurred".

He added "if you have a President who can jump the gun over corruption, then you know the government we are dealing with".