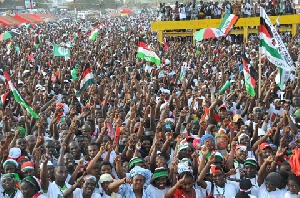 The Ketu South constituency branch of the opposition National Democratic Congress (NDC) in the Volta region has suspended three of its members for gross misconduct.
The party's director of elections Mr. Doe Kornyoh, with a branch executive, Mr. William Mensah, and a former deputy constituency organizer Mr. Peter Atisu, were suspended and referred to the Disciplinary Committee in a letter dated 20th March 2017. The letter was signed by the constituency chairman, Mr. Mathew Agbezudor.

They are accused of being 'rebellious' against the party by divulging privileged party information on radio, which has brought the image of the NDC in the area into public ridicule.

An earlier letter written to the three party kingpins to desist from their alleged misconduct went unheeded, hence warranting their suspension.
"Disregarding our letter and insulting us on air constitute insubordination.

Also, their negligence in the execution of a lawful directive from the Constituency Executive constitutes a breach described in article 46(8)(C) of the party constitution," part of the suspension letter read.