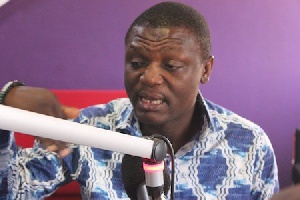 The National Democratic Congress will be highlighting the contents of its manifesto ahead of the official launching in Sunyani, the capital of the Brong Ahafo region, the party's 2016 campaign coordinator has revealed.
The manifesto, Kofi Adams said, has long been ready and that the party's presidential candidate and running mate in the forthcoming elections will spearhead the manifesto highlighting.

Speaking on Citi FM, Monday, Mr. Adams noted per the party's history "the NDC is not late in bringing out its manifesto" arguing that "in 2012, when we were equally in government, we launched our manifesto in October."

That notwithstanding, the party in this elections, he said had wanted to launch its policy documents earlier than the usual time to afford electorate considerable time to subject it [manifesto] to critical assessment.

But, "circumstances beyond our control have affected that launch," lamented Mr. Adams who is also the National Organiser of the NDC, hence the decision of the NDC to highlight its [manifesto] content before the launch to at least offer the public some insight into what they should expect.

"And so, we decided that highlight of the manifesto we could do in a week day, considering the fact that all these activities are being occupied with one event or the other, let His Excellency the president and vice president lead the process in doing the highlights of our manifesto which has long been ready," he stated.
"This time around we had wanted to beat that time and do it a bit earlier, but, circumstances beyond our control have affected that launch. You would observe that then we made it quite clear that we will launch our campaign, two weeks after we launch our manifesto," said Mr. Adams who is also the National Organiser of the NDC.

"So, we have proposed 12 or 13 of September for the highlights of our manifesto," he added.

The NDC's General Secretary, Johnson Asiedu Nketia said the party's delay in launching its manifesto is strategic, to enable the party trumpet its achievements but, not to wait for the New Patriotic Party (NPP) to launch first for the NDC to copy.

He thus pointed out that the NDC does not learn from losers saying "we set the pace for them to copy. So nobody should be comparing our timing and programming with anything to do with the NPP, because we have our own plans that we are following."