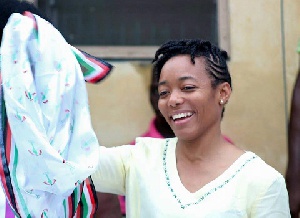 The parliamentary candidate for the Korle Klottey constituency, on the ticket of the National Democratic Congress (NDC), Dr. Zanetor Rawlings has launched her campaign for the 2016 parliamentary election.
The candidate who was optimistic of victory, underscored the need for a peaceful election and urged party supporters to desist from violence.

Over 500 party supporters defied the heavy rains on Sunday morning September 25, 2016 to support the candidate launch her campaign at the Osu Mandella Park, Accra.

The candidate led the supporters to walk through some key areas in the constituency before converging at the Mandella park where the campaign was finally launched.

Speaking at the launch, Dr. Rawlings said, they are stll doing what was started last year and the major highlights of her campaign would be peace, stability and development.

She said, ''if we want development to happen then we need to have it in an atmosphere of peace. And that is what we are hamering on. If you don't agree with someone, you don't have to fight with him or her. If can convince the person, that's fine. We don't want to fight, what we need is peace.''
She said, what should be the focus is the need to organise a clean and a healthy campaign.

Dr. Zanetor Rawlings said, she has already started some key projects in the constituency although she was yet to enter parlaiment and should she win, she will continue to do more.

She urged them to vote massively for President Mahama and herself for development in the area.

She launched her campaign without a campaign team and in an answer as to why she did so, she stated that, the idea of not having a campaign team is to have an all inclusive approach where every member of the party contributes to the victory of the NDC in the constituency.

The NDC she stressed, will not discriminate against anyone when it comes to development.
When asked if she feels threatened by lawyer Phiip Addison, candidate for the New Patriotic Party (NPP), she said, ''I think the people will be the deciding factor.

But i beleive based on the support that we have seeen and the people who have endured the rain to be here some whom are not NDC members, but have joined the force, i have no doubt in my mind that with God on our side, the NDC will win victoriously here.''

On his part, National Campaign Coordinator who doubles as the National Organizer of the party, Kofi Adams, who was at the event admonished voters to endorse Dr. Rawlings and President Mahama massively.

According to him, the record of President Mahama is unmatched hence, he should be given four more years.

He said, the parliamentary candidate partnering President Mahama will bring in more transformation in the constituency.