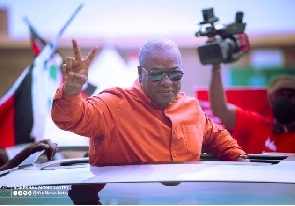 The National Youth Organizer of the Convention People Party (CPP), Comrade Osei Kofi Acquah, is alleging that the National Democratic Congress (NDC) will deteriorate if elders and faithful of the umbrella party sit unconcerned for John Mahama to lead the party in 2024.
To the CPP man, former President Mahama has a failed record that cannot be wiped out with a monetary campaign and sweet talks as he goes about wooing delegates to vote for him in the NDC's up-and-coming flagbearer race.

Speaking to Julius Caesar Anadem on Ultimate FM, monitored by MyNewsGh.com. Mr. Acquah said there are other potentials in the NDC that can give the CPP and others a run for their money in election 2024 and not a failure and a disaster Mahama when he was given the opportunity.

"What is happening in the NDC? Some of us can't keep quiet. Yes, I am in the CPP, but in politics, it is like living in a compound house; anything that goes on in the NDC concerns me because we are in the same compound where political activities there can have an effect on all of us."
"Mahama has been a disaster and will always be. We saw his leadership when he was in power with Atta Mills and, subsequently his own tenure. What did he do special that he needs to come back?" he asked.

"His records are poor, dumsor, collapsed businesses; I mean, how the man has a failed record, there are other potentials in the party that needs to be given the opportunity, not Mahama."