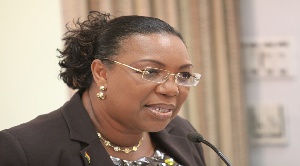 The biggest opposition National Democratic Congress(NDC) says it is working on getting the rank and file of the party to plug into modern technology as it seeks to recapture political power in the next general elections.
Speaking at a News Conference at Elmina in the Central, after a UNDP forum with political parties, the former Attorney General(AG), Betty Mould Iddrisu indicated that the party after a careful analysis, wants to make some commitments towards adopting new technological tools that will help it solidify its base for its political goal to be met.

The UNDP's engagement with political parties in the country was to help the parties formulate their internal and external communication strategies and also engender the processes of having more women in the political space.

The NDC took the opportunity to engage the media on the progress of work of the party's policy document that will ostensibly drive the party's quest for political power.
Addressing the media, Madam Betty Mould Iddrisu said the party is poised to right it wrongs going forward, and secure the needed victory beginning with the empowering of women.

According to her, the policy when finally put together will bring the party's leaders and followers home to be abreast with new and emerging technological trends to enable the party win the 2020 elections.

"I am confident that when we have this finalized, we've almost got it finalized, we will be able to bring NDC fully into this new technological age. Some of us are born before computers, but we see the need to bring all our different participants and our different membership, whether the youth,whether the women and even our leadership into the technological age. Technology controls the World."