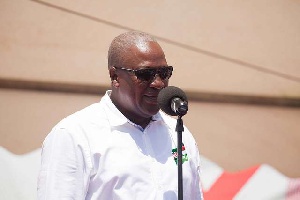 Former President John Dramani Mahama says the National Democratic Congress (NDC) will properly implement the free Senior High School programme if Ghanaians give the party the mandate in 2020 to run the country.
Rubbishing allegations by the New Patriotic Party that the NDC will collapse the programme Mr. Mahama observed the programme has since its implementation in September 2017 faced challenges with lack of infrastructure leading to congestion in some schools

He said this while addressing NDC delegates at Obuasi in the Obuasi East constituency on Monday as part of his four-day flagbearership campaign tour of the Ashanti Region.

Mr. Mahama said the roll out of Free SHS programme is a constitutional obligation hence the NDC will be fully committed to its implementation.

He observed that even though government is claiming that education to the Senior High School is now free, the introduction of the Double Track System is making parents pay more.

The former president explained that the double track system introduced by the government this academic year to shore up admissions into school has brought with it extra classes, which parents will have to pay for.

He said government is struggling to implement the free SHS programme because it has not invested in school infrastructure such as classroom blocks and dormitories.
Mr. Mahama thus gave the assurance that the NDC government would make the needed investment to address the challenges when elected in the 2020 general elections.

He questioned the Akufo-Addo government's decision to abandon the E-Block Community Day Senior High Schools, which were constructed as part of the progressively free SHS programme introduced by the NDC government.

The former President said the next NDC government will continue its infrastructural investment in Senior High Schools to help accommodate more students in Senior High Schools.

"When the NDC government returns, we will complete all 200 Senior High School structures we began building while in power."

Mr Mahama urged delegates of the NDC to unite and work hard for victory in 2020.