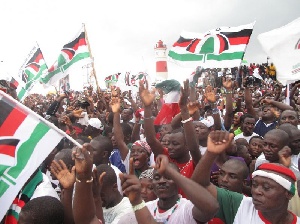 Fri, 30 Sep 2016 Source: GNA
Mr Alexander Akuaku, National Democratic Congress(NDC) Parliamentary candidate for Okaikoi South has indicated his readiness to take over the seat from the opposition New Patriotic Party(NPP) in the 2016 general election.
He said his campaign team would work hard to go beyond the age-old impression that the constituency was a stronghold of the NPP and provide the necessary resources that would unseat the present Member of Parliament.

Mr Akuaku, who was speaking to journalists after an interaction with members of the Ghana Society for the Socially Disadvantaged in North Kaneshie, Accra said his campaign was focused on four main sectors.

He said these included; education, healthcare, skills training and the development of entertainment and sports as the areas that would empower people in the constituency to become self-sufficient.

The Parliamentary candidate said under the skills training, he would support groups and associations such as mechanics, beauticians and dressmakers and vulnerable associations and societies with tools to step up production to make them self-reliant in their various areas.

Mr Akuaku said the constituency has renowned sports personalities and musicians and he would do everything possible, if given the nod to harness their potentials to make them useful models in their various endeavours.

The NDC parliamentary candidate said footballers such as Jones Attuquafio, Ofei Ansah, C.K Gyamfi, Nii Darko Ankrah and Adolf Armah were all residents of the constituency and he would continue to support more people to harness their potentials.
He said President Mahama's announcement to renovate the Kansehie Sports complex a couple of weeks ago would reinforce his sports development plan in the constituency.

The NDC Parliamentary candidate promised to establish a community recording studio that would help young talented musicians to record their demonstration albums before seeking for further support.

On health, Mr Akuaku promised to work with other partners to upgrade the Kaneshie Polyclinic into a hospital, establish mobile and satellite clinics in the constituency to bring health service to the doorsteps of the people.

He said satellite clinics would be established in each of the eight Electoral Areas of the constituency to reduce the long queues at the few health facilities in the constituency.

On education, the NDC Parliamentary candidate promised to set up a special fund that would motivate teachers through the Parent-Teacher Associations of various schools in the constituency.

He said they would also work around the clock to improve on supervision in schools to eliminate perennial absenteeism among teachers.
Source: GNA