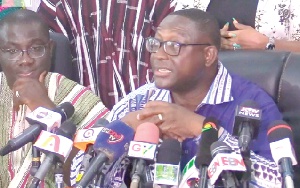 Mr Yaw Buabeng Asamoah, the Director of Communication, New Patriotic Party, has said the National Democratic Congress's decision to withdraw from the Ayawaso West Wuogon by-election was to damage the integrity of the electoral process.
He said the New Patriotic Party was a major stakeholder in the ongoing by-election in Ayawaso West Wuogon and condemned unreservedly any violence being generated around the polling station.

At a press briefing to react to the incidence of shooting and violence at the ongoing by-election in Ayawaso West Wuogon in Accra, Mr Asamoah said the incidence appeared to be a premeditated attempt to create an impression of violence, discredit the ongoing election, and damage the integrity of Electoral Commission and government.

He said the NDC candidate had allegedly imported its 'Azorka' members and bused them from Tamale into the Constituency and lodged them close to his residence.

"Upon notification to the security agency about the presence of the Azorka members and in an attempt to investigate the issue, the security agencies were fired upon, which resulted in counter shots," Mr Asamoah said.

He said the incidence did not happen at the La-Bawaleshie Presby Polling Station and that out of the 137-polling stations it was only that incident that caused the panic.
"We therefore appeal for calm; the election is ongoing with four parties involved …"

Mr Asamoah said no lives were lost as stated by the NDC members and described the issue as an orchestrated attempt to damage the reputation of the democratic process.



"We call on all the security agencies to come up and demonstrate that they are in charge and assure the public that voting is ongoing.

We urge the NDC and the various leadership of the participating political parties to act responsibly to demonstrate leadership and report to the security if they suspect any anomaly in the voting process instead of peddling lies to the public," he said.
Earlier, Mr Samuel Ofosu Ampofo, the Chairman of NDC, said the party had withdrawn from the ongoing Ayawaso by-elections for security reasons.

He said armed security men besieged their candidate's home and the Party could no longer guarantee the security of their people, hence the decision to pull out of the exercise.

"We have conferred with our candidate, Delali Kwesi Brempong, and he is traumatised by the incident. We also do not believe a single life should be lost in this by-election so we have withdrawn from the process," he added.