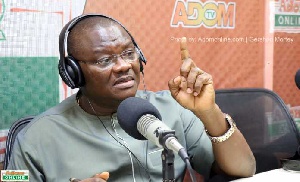 NDC flagbearer hopeful, Sylvester Adinam Mensah has laughed off claims by the leadership of the party that the NDC became cash-strapped just two weeks after losing the 2016 elections, calling it strange.
That position by the party, he noted, is in sharp contrast to what persisted after NDC's defeat in 2000 where even well over two years the party had enough fund to run its affairs.

Mr. Mensah who is also the former CEO of the NHIA was addressing NDC branch and constituency executives in Nkwanta North and South Constituencies in Kpassa and Nkwanta respectively on December 8, 2018.

He is convinced the NDC needs a fund for the smooth running of the affairs of the party either in opposition or power, and promised to create one if given the nod as leader and flagbearer of the NDC.

"When the NDC lost the 2000 elections, there was money to run affairs of the party for at least two years. I was there and saw what happened, but same cannot be said about 2016. It is very strange to learn that few weeks after the 2016 defeat, the party was broke. We heard the General Secretary mentioning this and for which reason NEC decided to peg picking of nomination forms and filing at such an unethically high level.

"I can assure you that under my leadership, the NDC will see a fund operational enough to sustain all activities of the party from branch to national level. I promise to bring my expertise in fund management to bear on this so as to support the party", Mr. Mensah stated.


The National Executive Committee of the NDC announced its decision on fees for picking and filing nomination forms through the General Secretary of the party. The decision was greeted by criticisms from within and outside the party. Some flagbearer aspirants, including Mr. Sylvester Mensah, petitioned the party's Council of Elders for a review of the fees and dates to complete the exercise.

Even though there was a response from the council, petitioners are still pushing for further review. Mr Mensah opined that the NDC has come a long way and must begin to adopt innovative ways in raising funds for party activities, including payment of dues.

"Party members must own the party. They must know that without their contributions the party cannot survive. We must give power back to our people and that is exactly what I will do when you give me the nod", he stressed

Party executives praised Mr. Mensah for coming to their Constituencies to meet with them. Beside that, they commended Mr Mensah for running a clean campaign devoid of personal attacks and therefore promised to vote for him.