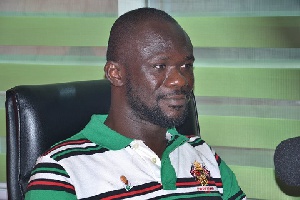 A member of the Communications Team of the ruling National Democratic Congress has said some leading Members of Parliament of the New Patriotic Party (NPP) have benefited tremendously from President John Mahama's "massive" infrastructure projects across the country.
Onasis Rosely Kobby mentions Member of Parliament for Suame and Minority Leader, Osei Kyei-Mensah-Bonsu and Member of Parliament for Tafo Pankrono as part of the opposition MPs that have benefited from the government's projects.

He adds, not only have they been provided with good roads, the roads have been named after them. "Government has named a road in Breman after the minority leader while another road in Pankrono has been named after Dr. Anthony Osei Akoto," heh revealed.

Onasis Kobby, therefore, wonders why the NPP would downplay the projects recorded in the NDC's campaign material dubbed the "Green Book" when they have benefited from the government's initiative.

According to him, Presidential candidate of the New Patriotic Party, Nana Addo Dankwa Akufo-Addo and some lawmakers of the party at every giving opportunity seeks to discredit the government's infrastructural achievement the party's legislators have been lobbying same for their constituencies.
Onasis Kobby was speaking to Kwame Adinkrah, host of Abusua Nkomo while accompanying President John Mahama on his four-day campaign tour of the Ashanti Region.

"The minority leader and MPs should be the ones propagating the the infrastructural projects undertaken by the government instead of vilifying President Mahama," he said.

"The president has not been discriminatory in the provision social amenities as two key MPs of the NPP have had their requests for roads in their constituencies granted by the government…we actually named the roads after them," he added.

Onasis Kobby, therefore, believes judging from the government's achievements in the Ashanti Region, President Mahama is expected to enhance his electoral fortunes in the region.