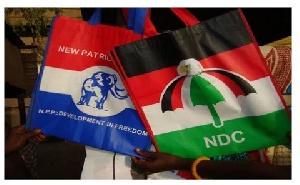 The Convention Peoples Party's director for elections 2016, James Kobina Bomfeh, has assessed that the New Patriotic Party (NPP) and the National Democratic Congress (NDC) are only patriotic when they are in opposition.
Speaking to Sunrise show host, Winston Amoah on 3FM 92.7, the man affectionately called Kabilla argued that the NPP and NDC do not differ in anyway and only show their patriotism when in opposition.

He stated, "We cannot continue to leave the destiny of Ghana into the hands of two political parties who don't differ anyway. Their only difference is that, this one is in government…

"Those who are outside government become more patriotic like us. When they are in government, then it turns the other way round".
Kabilla also argued that the NPP and NDC continue to accuse each other of the same things depending where each stands – opposition or government. He advocated for the need for smaller political parties to come together and build a third major force in Ghana as being mooted by the Progressive People's Party.

He called on the various 'smaller' political parties to come together and build that force that can give Ghanaians a viable alternative.