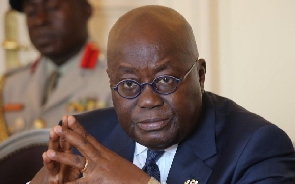 Wed, 12 Jun 2019 Source: GNA
The women's wing of the New Patriotic Party (NPP) in the United States of America (USA) has defended President Akufo-Addo's recent comments on gender advocacy in Ghana.
According to them, President Akufo-Addo was on point, when he said women needed to do more to earn their place in political offices, adding that 'the truth hurts and that is a fact except that people want to play politics with it.'

The Women's Wing said this in a News Release issued and signed by Mrs Barbara Boafo, Women's Organizer of the USA Wing.

It noted that what the President said was a call to action in that, if women don't put themselves up to be elected as candidates then it would be difficult to have a majority of them as ministers as at least half of his ministers per the Constitution must come from the legislature.

It would be recalled that at the World Women Deliver Conference in Canada held last week, the President was quoted to have said it would take more than wishes and hopes for women to get to the decision-making table calling for enough dynamism and activism on the part of those who are seeking it.

The President's comments were both criticized and praised by some women activists in the opposition National Democratic Congress (NDC) and the New Patriotic Party (NPP) respectively.
Mrs. Boafo in the Statement expressed shock at the negative comments that the President's assertions generated and argued that President Akufo-Addo appointed more women than any other President in the political history of our country.

Mrs. Boafo said President Akufo-Addo had done a lot to strengthen and empower women by at least appointing three women to key cabinet positions of his government such as Attorney General, Foreign Affairs and Local Government and Rural Development.

"Under his watch, the gender question was significantly improved, which is evidenced in the appointment of the first female Chief of Staff, and ensuring that the positions of Chief Justice and cabinet secretary are filled by competent women", she pointed out.

Mrs. Boafo further divulged that 36 of President Akufo-Addo's MMDCEs as well as several top executives of State-Owned Enterprises (SOEs) were women and being the first to set up a specific fund to support women entrepreneurs with disability.


Source: GNA