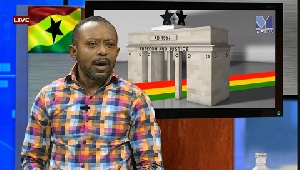 Founder and leader of Glorious Word Power International Ministry, Rev. Isaac Owusu Bempah has revealed that some members of the governing New Patriotic Party (NPP) are using 'juju' on President Nana Akufo Addo to enable them get favours from him.
According to the controversial reverend minister who is a devout enthusiast of President Nana Addo Dankwah Akufo-Addo these persons have been consulting various shrines in the country to outwit others to get into the good books of the President and be favoured.

Speaking to Paul Adom Otchere on "Good Evening Ghana", Rev. Isaac Owusu Bempah stated that those engaged in such spiritual dealings are engaged in an exercise in futility as President Akufo Addo is spiritually fortified.
"In the spiritual realm, I see some people are using juju on the President just to get favours from him. But no one can use juju on the President, that is impossible, when I hear people have planned evil against him, I laugh it off. Spiritually he's well protected, God has imposed the task of interceding for the President on me and other men of God who pray for him constantly."