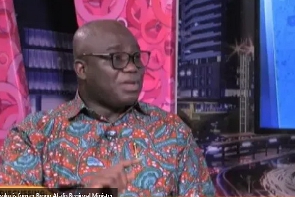 The Member of Parliament for Asunafo South in the Ahafo Region, Eric Opoku has stated that the governing NPP government cannot be in power beyond 2024 due to their bad governance.
The former Brong Ahafo regional Minister who was speaking on the Gumbe Show on TV XYZ cited various infractions under the Akufo-Addo-Bawumia-led administration that will cause their defeat in the 2024 elections.

Opoku said the NPP did not deserve another term to govern Ghanaians haven collapsed the economy through its bad policies, the lack of commitment to raise the standards of governance, and the wanton display of opulence among the Akufo-Addo government appointees.

He also mentioned corruption has been pervasive under Akufo-Addo such that it has affected all the sectors of the economy and plunged Ghanaians into severe hardship as high inflation bites hard.

"Unlike the John Mahama government that set up various funds to aid development in the country, the NPP has rather decided not to work but rely on vote-buying to stay in power, " he argued.

" The vote-buying activities were displayed so much at Assin North recently during the by-elections yet they lost the election. That's the stock in trade of the NPP, " Opoku added.

He urged Ghanaians to massively vote for the NDC flagbearer, John Mahama, based on his past track records which he said Akufo-Addo does not come close to.
"For me, I'll advise Ghanaians to compare their lives now to when the NDC was in power and vote right.

"When they [the NPP] share the monies to you, take them and vote against them," he urged.

Asked by host Oheneba Boamah Bennie whether the NDC was ready to prevent the NPP from breaking the 8-year cycle of governance, Opoku said " They say they are breaking the 8 but I know they can't. They'll rather break at 8."

His explanation was that the NPP is neck deep in corruption and scandals which will break the party before their 8-year tenure ends.

"Looking at what is happening in the government, the party will break before the end of their 8-year tenure," Opoku declares in Akan.