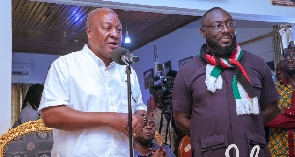 The government has started fixing some roads in Kumawu, Ashanti Region, only because on Tuesday's by-election, former President John Mahama has said.
Mr Mahama was in the constituency on Friday ahead of the Saturday burial of the late MP, Mr Philip Basoah.

He told the constituents to but for the forthcoming by-election necessitated by the death of the MP, the current flurry of ongoing road projects in the constituency would not have happened.

He also urged them to take all the vote-buying bribes being given them by the NPP but still vote against the party in the by-election scheduked for Tuesday, 23 May 2023.

Mr Mahama, who is the 2024 flag bearer of the National Democratic Congress, said he sees the MP's death as a sacrifice for the people of Kumawu, since, in his reckoning, but for that happenstance, the government would not have bothered with the constituency in terms of constructing their roads.
At Bodomase, Mr Mahama urged the people of the area to vote out the NPP despite the 'tugyimie' rice the party has been bribing them with.

Instead, he appealed to them to vote for the NDC's candidate, Mr Kwasi Amankwaa, popularly known as Tom Cee.

He said all the big projects in the constituency are a legacy of the NDC and promised to complete the stalled ones should his party win the next general electons.