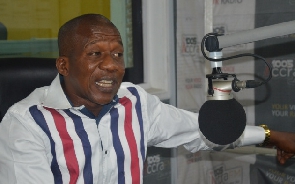 The opposition New Patriotic Party (NPP) in the Central Region has set its eyes on clinching 18 of the 23 parliamentary seats in the region in the December legislative poll.
The party's First Vice Chairman in the Central Region, Joe Donkor, has revealed that plans are underway to ensure that the party meets the target.

The NPP currently holds only seven seats in the region.

Speaking on Accra100.5FM's morning show, Ghana Yensom, on Tuesday October 4, Mr Donkor said the frustrations of Ghanaians in the region and the country as a whole, given the bad governance of President John Mahama, would enable the opposition party realise its targets in the elections.

"It is not only NPP supporters who want to vote for Nana Addo but even NDC supporters who are disappointed in President Mahama. Out of the 23 seats in the Central Region, 18 of them will be for NPP. We are targeting 18 and out of this, 16 will surely go to the NPP. Awutu Senya East and West constituencies, Agona West, Gomoa Central and West, Ajumako Enyan Essiam, Cape Coast South and North are some of the seats that will definitely come to us (NPP) after the elections," he said.

Mr Donkor further stated that the NDC under President Mahama had been deceiving Ghanaians with the Green Book by stating phantom achievements such as the construction of 200 community day senior high schools across the country.
"President Mahama does not respect Ghanaians. After all, he says we have short memory and so he will promise to build 200 schools and builds only six and gets the media to hype it during the commissioning for Ghanaians to be deceived that he is working."

Speaking on unity within his party, Mr Donkor said at the moment the NPP was more united than the NDC.

According to him, the president sidelined Mr Allotey Jacobs, the Central Regional Chairman of the governing NDC by appointing Cassiel Ato Forson, Deputy Minister of Finance and Member of Parliament for Ajumako Enyan Essiam, as head of his campaign team in the region. He said there was growing anxiety among several members and supporters of the NDC there following President Mahama's decision to overlook the regional chairman. However, he claimed, out of fear of victimisation, members of the party were unable to express their concerns and disappointment.

He indicated that disagreements within the NDC were eating deep into the minds and hearts of its followers but they cannot open up about it. "The NDC has the Rawlings faction, the Mills faction, and the Mahama faction. The Mills and Rawlings factions have been sidelined. Allotey Jacobs, who is the Central regional chairman, has been sidelined in the campaign. The president has appointed [Cassiel] Ato Forson to lead his campaign in the region."

Mr Donkor added: "Koku Anyidoho, despite being an elected executive of the NDC, has been sidelined in the party. That is why if there is an issue, he says one thing and then the party itself also comes out to say a different thing."