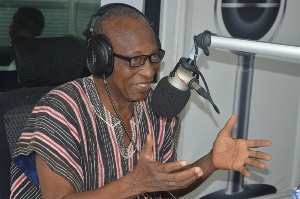 A former Head of Government and Official Spokesperson of the erstwhile Armed Forces Revolutionary Council (AFRC), Major Osahene Boakye-Djan (retd) says the governing New Patriotic Party(NPP) is sadly in a state of what he describes as "credibility deficit" vis a vis the gargantuan promises they made in the last polls.
He said the NPP government is in a quandary specifically in respect of the implementation of its free SHS policy, which it is now struggling to roll out in an efficient manner within all second-cycle institutions.

"Do you know that in the Constitution it is stipulated that it should be free and compulsory? Our perspective was that everybody must have access to it so that the difficulty they are going through now will not have been possible. But the fundamental problem I have with the Free SHS policy is that it is not wide-ranging enough and now if you look at the implementation critically at the end of the day it'll only be free in name…It is free but some people will not have access to it." he told host Fiifi Banson on Anopa Kasapa on Kasapa 102.5 FM.

His comment follows the difficulty that has rocked prospective students seeking opportunity into second cycle institutions with many critics saying the ruling New Patriotic Party is orchestrating ways to restrict the number of people to be admitted into the free senior high school program.
The Ministry of Education and Ghana Education Service have come under intense criticism over the numerous challenges that have popped in the computerised school selection program which is to open the way for fresh entrants to enjoy the government's free SHS policy.

Some elements within the opposition say the difficulty encountered by the students, parents, and guardians to complete the placement process is a deliberate attempt to deny some members of the public admission to continue schooling.