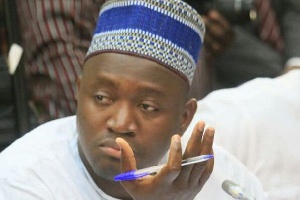 Member of Parliament for Tamale North Constituency Alhassan Suhuyini says the true colours of the New Patriotic Party (NPP) government is being seen by Ghanaians and the earlier it came clean the better.
The National Democratic Congress (NDC) MP said the party lied its way into office and now its leadership cannot explain its way out.

He said when the previous government was brandishing the truth, the NPP continued to fling it out in the air and continued their path of "deception".

"The truth that we humbly told you while in opposition and you rejected it will rudely confront you when you are in power."

Mr Suhuyini was speaking on 3FM's Sunrise on Tuesday.

"This government is full of rhetoric [with] less action."
He said what the government has done in the past year since it assumed the reins has been to have "grand launching[s] where a lot of big talk is done".

He cited the launch of the much touted 'One-District, One-Factory' programme, saying nothing has been seen of it since that event in Ekumfi in the Central Region.

"You go to the first ground and it is overgrown with weeds."

'Lies upon lies, deception upon deception'

He said that NPP has been full of "lies upon lies, deception upon deception and that is how they won the election".
"They have not realized that the people of Ghana have seen through their lies".

The Tamale North MP had one piece of advice for the NPP government.

"They need to come clean."