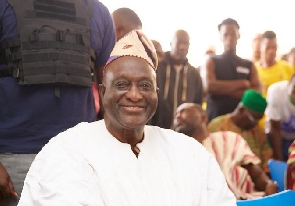 The National Communications Officer of the opposition National Democratic Congress (NDC), Sammy Gyamfi, has expressed his understanding of Alan Kyerematen's decision to resign from the NPP, citing unfair treatment as the catalyst.
Mr. Kyerematen, during a press conference on Monday, 25 September 2023, announced his departure from the NPP and disclosed his intention to run for Ghana's presidency as an independent candidate.

However, despite acknowledging the perceived unfair treatment Kyerematen endured within the NPP, Gyamfi emphasized that Kyerematen is not seen as a viable alternative to lead the country as President.

Mr Gyamfi expressed his empathy for Kyerematen's situation in a Facebook post and highlighted that Kyerematen's resignation underscores why, in his view, no democratic or peace-loving Ghanaian should align themselves with or vote for the NPP.

Despite the challenges faced by Kyerematen, Mr Gyamfi reiterated his stance that Mr Kyerematen is not the solution, labeling him as an inadequate alternative to the incumbent NPP government.

Read Mr Gyamfi's full post below:
On the matter of Alan Kyerematen's resignation from the failed NPP;

1. It is an indisputable fact, that Alan Kwadwo Kyerematen has not been treated fairly by his party, the NPP.

2. The NPP under the leadership of President Akufo-Addo has never been truly democratic.

There is no way Alan could have gotten a modicum of fairness or justice in the ongoing presidential primaries of the NPP under the leadership of the despotic tyrant, Akufo-Addo who is hell bent on installing his puppet as his successor and continues to oppress persons who disagree with him. Former NPP National Chairman, Paul Afoko and former General Secretary, Kwabena Agyepong come to mind readily.

3. I understand Alan's pain and do empathize with him. He and his supporters have continuously been victims of intimidation, unprovoked harassment and violence. His resignation from the NPP is therefore understandable.
4. The basis of his resignation from the NPP is the more reason why no democratic or peace-loving Ghanaian must join or vote for the NPP.

5. *However, the point has to be made forcefully, that Alan is not a viable alternative to the failed incumbent NPP government.

As a Cabinet Minister responsible for Trade and Industry and a member of the Economic Management team from 2017-2023, Alan Kwadwo Kyerematen actively participated in the destruction of the economy into the mess it is today.

Under his watch, the Komenda Sugar Factory was abandoned to rot for almost six (6) years. Growth of the manufacturing sector declined significantly and businesses were suffocated by the bad policies of his Ministry and government leading to several job losses.

5. Would Alan have resigned from the NPP if he had been treated fairly by the NPP in their ongoing Presidential primaries?
Clearly, it is the pain of rejection by the super delegates of the NPP and the intimidation and harassment of his supporters which is fueling Alan's latest decision and not any superior passion to help heal the partisan divisions in the country. But it is too late for Alan to jump ship now.

ALAN IS NOT AND CANNOT BE THE SOLUTION TO THE VERY MESS HE PARTICIPATED IN CREATING!

ALAN = BAWUMIA = NPP

THE VALUE IS THE SAME!

Sammy Gyamfi ESQ
National Communications Officer, NDC