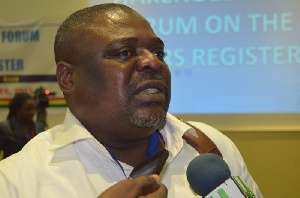 Deputy General Secretary of ruling National Democratic Congress (NDC) KoKu Anyidoho has stated that members of the opposition New Patriotic Party (NPP) have no message for Ghanaians; hence the party's decision to choose Sunday for the manifesto launch.
NPP members and gurus across the country on Sunday October 9, 2016 will launch their manifesto which contains its policy ideas to be implemented when voted into power.

But speaking on Abusua FM's Abusua Nkommo hosted by Kwame Adinkrah, Mr. Anyidoho warned the NPP to desist from disturbing Ghanaians to give them the mandate to rule the country.

'They are going to launch their manifesto in the afternoon on Sunday at Trade Fair when people have returned from churches and want to be in a relaxing mood, praying to God for forgiveness, that is the time NPP members deem it appropriate to launch their manifesto. They are liars, they don't have any message to tell Ghanaians, they are only pretending, they don't have manifesto, don't believe them,' he said.

Touching on election rigging counter accusations, he described NPP members as liars who are just throwing dust in the eyes of the public.

He said the vice presidential candidate of NPP Dr Mahamudu Bawumia was trying to test the waters, hence his decision to verify his voter card outside Electoral Commission's (EC) designated center in the North.
'It's very ironical that the same Ablekuma West constituency where the NPP's Presidential nominee Nana Addo Dankwa Akufo-Addo has been accused of rigging elections in favour of his closed friend and associates Ursula Owusu, stood there to accuse his opponent of having copy right in election rigging.

We have picked intelligence that the NPP want to clone EC machines at undesignated centers to rig the elections which will in turn jam EC machines. They are the ones planning to rig the elections and not NDC; it is possible for them to swap EC machines with theirs. That is why Bawumia did what he did. That is the same reason why they wanted to change the voters' register at all cost, …Bawumia and Nana Addo should bow their heads in shame, we NDC don't have rigging formula, we have a manifesto that is why we have been campaigning strongly, we have a strong message,' he claimed.

In a rebuttal on Abusua FM, Mustapha Hamid Spokesperson for Nana Addo accused the NDC of lavishing in riches and do not respect God and Ghanaians anymore.

'The way our politics is done, sometimes it's difficult to comment on some of the issues raised, we are on radio and if you are not careful, you must say something you are not supposed to. Ghanaians are discerning enough to know what is right from wrong, what is wrong with our chosen date, this is the day Christians have chosen to worship their creator.

Only God chooses Kings and so one would want to seek for the favour of God when embarking on such a course. I don't know the lenses and glasses NDC members wear, they seem to see things upside down, why is he speaking against the holy day, is he trying to insult Ghanaians, they are now rich and do not respect God anymore, they rigged the elections so don't see the need to respect Ghanaians,' he alleged.