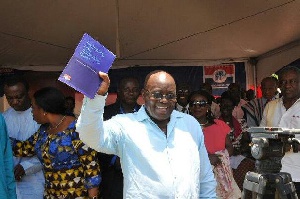 The New Patriotic Party some few weeks ago launched its 2016 Manifesto, leveraging on the creation of jobs and the implementation of social protection programmes to enhance the social, economic lives of Ghanaians.
The Manifesto, titled: "Change, Agenda for jobs: Creating Opportunities for All," is a 68-page document. Launching the document, presidential candidate of the NPP, Nana Akufo Addo, said, the document is a solemn contract between the NPP and the Ghanaian electorate, and not just any paper just to attract votes.

"We are not looking for catchy and/or meaningless slogans because they will win votes. We have not put together a Manifesto that sounds good, but does not positively affect the lives of the people of our country." "When we drew up a Manifesto that we titled Transforming Lives, Transforming Ghana, you would remember that some people simply wanted "e dey bee keke", and when they appropriated our title, they have been at a loss about what to do with it.

"On the one hand, it is possible to see the comic side in the Manifesto pilfering phenomenon and agree with the 'great minds think alike' wisecrack, but, on the other hand, it is a dangerous practice for our country for political parties simply to take on concepts and programmes they do not believe in, nor have thought through."
Meanwhile, Mardi Jibril, a Deputy National Organizer of the ruling NDC has described the manifesto of the NPP as a ''cartoon book''. He was speaking in an interview with Rainbow Radio's Kwabena Agyapong on Eboboba.

He said, the manifest of the NPP contains lies, and policies that have been drafted to only win votes. Mardi Jibril noted that even the picture of Nana Addo and their introductory page shows how deceitful the NPP can be. He has won Ghanaians to be careful about the manifesto of the NPP, and deny them their appeal to vote for Nana Addo.