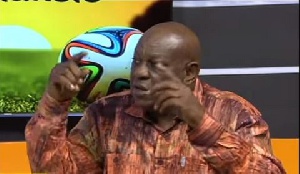 The Managing Editor of the Al-Hajj Newspaper, Alhaji Bature Iddrissu has described members of the ruling New Patriotic Party (NPP) as a bunch of cowards who should count themselves lucky the opposition National Democratic Congress (NDC) has departed from its old militant ways.
According to him, the joy of the current government should be the fact the NDC born out of militancy has decided to tone down without establishing a vigilante group like the NPP has done.

"Just pray to God that the NDC does not establish a militant group. NDC is more wild than the NPP because they were born out of revolution. These people are cowards…..if NDC rise today, I am telling you they will run away because we know them. We know who those who will hide themselves under beds….we know who they are", he revealed on Adom TV on Tuesday.

He praised the opposition NDC for not rebelling against the acts of vigilantism and intimidation witnessed in the country in recent times indicating that they are rather interested in developing the country without acts of vigilantism which they laboured to develop.
"I salute the NDC because they have struggled and built this country so they are not interested in creating violence. In spite of the atrocities, the violence, intimidation and the rest, they have not embarked on a single demonstration. If we are talking about violence, the NDC was born out of the Rawlings regime and they have more people than NPP but they have decided to chart a new path", he said.

Alhaji Bature said there is an extent to which the people can tolerate what is happening in the country in terms of acts of vigilantism in the party accusing President Nana Addo Dankwa Akufo-Addo of being the main architect

"Who brought vigilantism to Ghana; until he came into power he was using them. He brought Serbians and South Africans There is no political party in Ghana with their personal security but Akufo-Addo after becoming a flagbearer started this. He started them to protect himself against his competitors and they are now devouring everyone", he lamented.