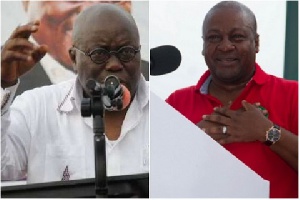 Controversial musician, Kwame Asare Obeng, popularly known as A Plus, says compared to the opposition National Democratic Congress (NDC), members of the governing New Patriotic Party (NPP) are more violent in attacking people on social media.
His comment comes after some NPP members verbally attacked Ghanaian media personality, Nana Aba Anamoah for criticising President Akufo-Addo to stop blaming the former President, John Dramani Mahama at the least opportunity.

"The president today in the Volta Region should be telling us exactly how many jobs he has created in the Volta Region alone, he shouldn't be reminding us of what John Mahama didn't do or said and hadn't said. We are not interested in that. There are problems in the Volta Region, he should be telling us what he has done to address those problems", Nana Aba Anamoah said.

The statement did not go down well with the majority of Akufo-Addo sympathizers and NPP members who took turns to insult and abuse her personality on all social media platforms.

Sharing his opinion however on the matter, A Plus said he cannot fathom why his colleagues (guys) in the NPP are always the ones that get furious even when the issue has got to do with both NPP and NDC.

"So please ooo why is it that when people attack both NDC and NPP it is the NPP guys that get angry and insult? I just don't get it", he wrote on Facebook sighted by Ghanaguardian.com.
A Plus added: "If you like go to your page right now and post "NDC and NPP are useless." This thing I don't understand it ooo".