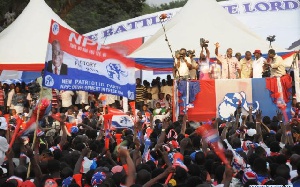 A Private Legal practitioner Yaw Boafo, is optimistic the opposition New Patriotic Party (NPP) stands tall ahead of the December 7 polls but not the 60% vote margin bandied around by some actors of the party.
"The highest margin we have had in a competitive election this country was in 1996 when President Rawlings had a little over 57%. I am certain no political party can cross that margin considering the political dynamics in the country", he said.

According to him, the NPP can win the elections and has every chance to win the election, but that can only be done on the dent of hard work by members of the party, executives and all those prosecuting its agenda for 2016PILOLOO BANNER-newHe disclosed that an earlier prediction by former information Minister Mr. Stephen Asamoah Boateng that it will win the polls by a 53% is realistic. The legal practitioner however warned that this will not come on a silver platter taking into account the political gymnastics of the country.

"The NPP will need to campaign hard and seriously. Not only Nana Akufo-Addo but all actors must get involved. In 2000 aside the National Campaign which president Kufuor did, others campaigned vigorously. They worked out tirelessly in the constituencies. These are missing in the NPP today. The commitment shown by regional executives in 2000 and 2004 is missing now", he indicated on the Ultimate Breakfast Show hosted by Lantam Papanko

Lawyer Boafo observed that executives are only building their campaigns around the flagbearer and when he is not around, they fail to take decisions on their own to inure to the general interest of the party.
According to him, Nana Akufo-Addo has limited time in dealing with the National Campaign and therefore advises constituency and regional executives to work tirelessly independently to feed into the national campaign team to consolidate the party's victory.

"If Nana Akufo-Addo is not there, people do not take decisions on their own. The Ananes, the Aprakus, the SK Boafos and many others worked very hard in 2000 and 2004. They did not wait for Kufuor because they knew they had a mandate to execute. You don't wait for the flagbearer because he has limited time. Constituencies and regional executives must work tirelessly to ensure the victory", he said

He however advised the party to work towards cementing its internal matters in order to make it more appealing to the Ghanaian voters ahead of the polls.