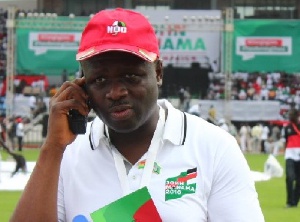 The Communications Minister Dr. Omane Boamah has rallied the people of the Northern region to vote massively for President John Mahama to keep the peace currently being enjoyed in the region.
He admonished electorate to keep the New Patriotic Party (NPP) in opposition because traits of its flagbearer - "divisive", "deceptive" and "dishonesty" - are unpresidential.

"They themselves know that their party is not a credible alternative to the John Mahama- NDC government. We're here in Tamale in January 2002 when a peaceful demonstration, thanks to the good people of Tamale, we were peaceful towards the tail end of the demonstration what did we see? A military deployed helicopter under instruction from the NPP government came and delivered dusty particles on the good people of Tamale," Dr Boamah recalled during the campaign launch of the Tamale South constituency.

"We have a leader who is not divisive, we've a leader who is not dictatorial, we've have a leader who is peace loving, that is why in our party we don't suffer from acid baths."
Dr. Boamah advised Dr. Mahamudu Bawumia to examine the "divisive and dictatorial tendencies" of Nana Addo and draw lessons from how the party treated Mr. Paul Afoko and the Late Aliu Mahama.

The NDC Tamale south constituency signaled it preparedness for the upcoming polls by launching it campaign and presenting its parliamentary candidate, Haruna Iddrisu to the constituents.

The theme of the campaign is: "Operation 700,000 Votes For Haruna Iddrisu and President Mahama", and it is aimed at garnering more votes for both President Mahama and Mr. Iddrisu after having contributed about 53,000 votes to the success of the NDC in the 2012 elections.