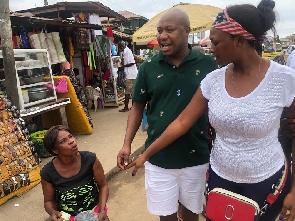 Horace Ekow Ewusi, the former Central Regional Vice-Chairman of the New Patriotic Party (NPP), has received a significant boost in his bid to become the party's parliamentary candidate for the Cape Coast North Constituency.
Market women, tradesmen, and tricycle drivers rallied behind him as they picked up nomination forms on his behalf.

The NPP had recently announced the opening of nominations in orphan constituencies, where the party has no sitting MPs.

In line with this, the market women, tradesmen, and tricycle drivers, accompanied by hundreds of delegates and residents of the Cape Coast North constituency, visited the party secretariat to obtain the nomination forms.

They presented a cheque of GH¢3,000.00, which they collectively raised from their sales, to cover the cost of the nomination forms.

The gesture was a show of appreciation for Ekow Ewusi's previous support and assistance to the Abura market women who expressed their confidence in him and their desire for him to represent them as their Member of Parliament.
Subsequently, they visited Ekow Ewusi's home, where they officially handed over the nomination forms and assured him of their unwavering support.

Grateful for their endorsement, Ekow Ewusi expressed his gratitude and made a commitment to work tirelessly to fulfill the expectations and aspirations of the people of Cape Coast North.

He acknowledged the significance of the nomination forms, emphasizing that they were purchased with the hard-earned money of the market women and other supporters. Ekow Ewusi vowed never to disappoint them and promised to work diligently to achieve their expectations.

With the overwhelming support from market women, tradesmen, and tricycle drivers, Ekow Ewusi's campaign for the NPP parliamentary candidacy in the Cape Coast North Constituency has gained considerable momentum.