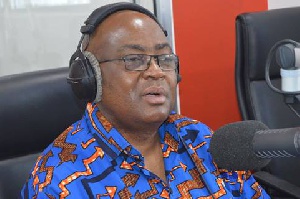 Editor-In-Chief of the Daily Dispatch Newspaper, Ben Ephson, says Mr. Philip Addison's victory in the New Patriotic Party's (NPP) Klottey Korle parliamentary primary is a clear demonstration of a ploy well executed against Nii Noi Nortey, by the elephant family.
However, he said the party cannot escape with their plan without being punished by some of their followers in the constituency because of apathy that has set in.

An earlier election which was conducted by the Danquah-Busia-Dombo tradition in August 2015 was won by the Nii Nortey.

He polled 393 of the total valid votes cast. The other candidates, Mr. Addison and Nii Adjei Tawiah polled 22 and 19 votes respectively.

But the duo having cited flaws in the conduct of the polls challenged the validity of the results and therefore went to court for redress.

The party worried about the court action stepped in to use its internal structures to settle the matter amicably but Nii Noi opposed it leaving them with no option than to allow the court to determine the outcome of the case brought before it.

The court having reasoned with the duo granted their wish for a re-run of the polls.
But prior to the polls, Nii Adjei Tawiah, who represented the party in both 2008 and 2012 polls as its Parliamentary candidate stepped down, leaving Mr.

Addison and Nii Noi to battle it out for the position.

The contest which was conducted on Saturday, February 27, 2016 saw Mr. Addison

come back strongly to overturn the table.

He polled 396 votes as against 367 garnered by Nii Noi Nortey.

Ephson in his post analysis of the event while interacting with Fiifi Banson on Anopa Kasapa on Kasapa 102.3 FM, Monday, said the decision by the elephant family to wash its hands off the court case left much to be desired.
"Some people deliberately did not put in appearance at the court for there to be default judgment for Addison. Those who planned this, didn't they put their ears on the ground to listen to what was going on in the constituency? At least they should have gone to defend the case".

"If they were politically minded and had put their ears on the ground, I don't think they would have done that", he noted.

That aside, he said if Nii Adjei Tawiah had not stepped down, it would have been a different story for Addison.

He said with Nii Noi's defeat, he could see people voting "skirt and blouse" in the November 7 Parliamentary polls because there is too much anger on the side of the former NPP Klottey Korle Constituency Chairman.

Such act, he added, would also go a long way to affect the votes of the flagbearer of the NPP.