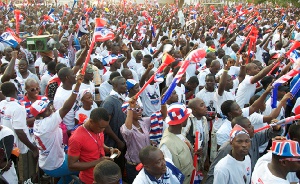 The largest opposition New Patriotic Party (NPP) has said it is confident of a landslide victory in the upcoming December elections.
According to the party, it will win an overwhelming sixty percent of total votes to secure the Presidency to put Ghana back on the right track of development.

Ghana goes to the polls in three months to elect a President and 275 Members of Parliament to help govern the country for the next four years.

The crucial election is expected to be keenly contested between the ruling National Democratic Congress (NDC) and the opposition New Patriotic Party (NPP).
Speaking to the media at an event in Kumasi in the Ashanti Region, Acting Chairman of the NPP, Freddie Blay stated that the party's optimism stems from the public response to its messages so far.

"Don't ask me about confidence in the EC, it's not about an issue of confidence in the EC or not, the EC has played its role, we've played our role. We have commented on and brought issues concerning reforms and so forth, some are being implemented we cant say we are entirely satisfied, but that as it may, we are ready for the game."

He added: "In Ashanti Region we expect over 90%, in Ghana we will definitely have a landslide we are not in for 52% or 53% as people are saying, we are aiming at over 60% and as I said it's a one touch -victory landslide for us. What I'm saying is that this country is fed up with the NDC, a government that is corrupt and a government that is not performing. There's the need for change come December 7 election."