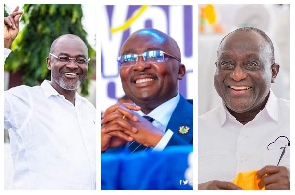 In the world of politics, the influence of followers and supporters cannot be underestimated.
These dedicated individuals play a crucial role in the journey of politicians, ultimately shaping their path to power with their ability to sway opinions and garner support.

Followers, and supporters have become instrumental in the electoral process, especially in selecting leaders during elections, even those who may not cast their votes directly can still have an impact by influencing their acquaintances, friends, and family members in electing leaders.

Taking a closer look at the upcoming presidential primaries of the New Patriotic Party (NPP), we can observe the significance of followers and supporters in the campaigns of the ten aspirants vying for the party's flagbearership slot.

The attention primarily lies on three prominent figures despite the pool of 10 aspirants, they are: Kennedy Agyapong, Member of Parliament for Assin Central; Alan Kyerematen, former Minister for Trade and Industry; and Dr. Mahamudu Bawumia, the Vice President of Ghana.

This piece looks at how the trio pulled crowds to submit their nomination papers weeks ago.

Starting with Dr. Bawumia, the Vice President has gained the endorsement of approximately 123 Members of Parliament, according to the Majority Chief Whip of Parliament, Frank Annoh Dompreh. This list includes influential figures such as the Deputy Speaker of Parliament, Joseph Osei Owusu.

Dr. Bawumia has been actively supported by these MPs, with several instances of them attending events together, including the commissioning of the Kumasi Central Mosque.

This show of support from key MPs further solidifies his position as a frontrunner. Additionally, the Muslim community has been closely following Dr. Bawumia's bid, as his religious background resonates with their aspirations.

During his nomination process, a group of dedicated followers even picked up the forms on his behalf, demonstrating their commitment to his candidacy.


Dr. Bawumia @MBawumia and wife @SBawumia arrive at NPP Party Head Office to file his flagbearer nomination forms #UTVGhana pic.twitter.com/JkYqfSazDp

— UTV Ghana (@utvghana) June 16, 2023
Massive support for Dr. Bawumia as he files his presidential nomination forms at NPP Head Office#UTVNews pic.twitter.com/ytmbs23ivs

— UTV Ghana (@utvghana) June 16, 2023
Vice President, Dr. Bawumia has today submitted his nomination forms to enable him contest in the Presidential race of the NPP.

Hundreds of supporters were at the National Headquarters of the NPP to show support.

Eric Mawuena Egbeta reports from the headquarters.#MiddayLive pic.twitter.com/geJTu7KCOg

— #TV3GH (@tv3_ghana) June 16, 2023
Alan John Kyerematen, the former Minister for Trade and Industry, has also amassed a significant following. His 'Aduru woso' walk saw him accompanied by a substantial number of party sympathizers, including a surprising presence of several Members of Parliament. Notably, Deputy Minister of Finance Abena Osei Asare's participation in the walk caught the attention of many, emphasizing the growing support for Kyerematen.
When filing his nominations, Alan John Kyerematen was equally surrounded by a massive crowd of enthusiastic supporters.
Rousing welcome for Alan Kyerematen at #AduroWoso health walk #UTVGhana pic.twitter.com/QsXl5elhYT

— UTV Ghana (@utvghana) April 29, 2023
Guarantee free fair and transparent elections - Alan Kyerematen to elections committee after being first to file his nomination forms

Get more updates on #News360. #3NewsGH pic.twitter.com/bW4AKiksZW

— #TV3GH (@tv3_ghana) June 12, 2023
Today, I filed my nomination forms to contest as flagbearer of my party, NPP. I pledge to offer sterling leadership in humility as we embark on this transformative journey together.

I will listen & join hands with you to make Ghana the beacon of development in Africa and beyond pic.twitter.com/TDVlmdRgmO

— Alan John Kyerematen (@AlanKyerematen) June 12, 2023
Kennedy Agyapong
, popularly known as the grassroots man, has gained fame for his generous nature and unwavering support for the party's grassroots.
Known for providing jobs, scholarships, and youth support, Agyapong has won the hearts of many who believe in his dream of ascending closer to the presidency.
His outspoken nature, irrespective of the individuals involved, when addressing issues of crime has further endeared him to the public.
Agyapong's criticism of both his own government and the opposition, combined with his sincere approach, has garnered support from various quarters.
When filing his nominations also, Ken was equally surrounded by a massive crowd to support his bid.
Massive crowd of Kennedy Agyapong, here at the NPP Head Office to support him file presidential nomination forms#UTVGhana pic.twitter.com/JHiCWDszwx

— UTV Ghana (@utvghana) June 21, 2023
Thrilling supporters of Kennedy Agyapong cannot hold on as he appreciates their coming!!!#UTVGhana pic.twitter.com/OrJzqI52zy

— UTV Ghana (@utvghana) June 21, 2023
Flagbearer hopeful of the NPP, Kennedy Agyapong arrives at the party's headquarters to file his nominations.#TV3GH #3NewsGH pic.twitter.com/hNu6H3v2dj

— #TV3GH (@tv3_ghana) June 21, 2023
Three more flagbearer aspirants have filed nominations bringing the total number to 8.

Kennedy Agyapong and Kojo Poku were at the party headquarters each promising to overturn the fortunes of the country if elected.#TV3NewDay pic.twitter.com/QLREpPtsTm

— #TV3GH (@tv3_ghana) June 22, 2023
The upcoming NPP presidential primaries which is slated for November 4, 2023, have become a battleground for these three contenders and their respective followers and supporters. Their ability to mobilize, influence, and garner support will undoubtedly play a significant role in determining the outcome of the primaries.
As the contest unfolds, it remains clear that the backing of followers and supporters can greatly impact a politician's journey to power. The support garnered by Dr. Bawumia, Alan John Kyerematen, and
Kennedy Agyapong
reflects the depth of dedication and belief in their leadership potential.
Ultimately, it will be the collective voices and choices of party members that will shape the outcome of the NPP presidential primaries, paving the way for the future leadership of the party and its aspirations for the country.
The 10 aspirants in the race include; Vice- President Dr
Mahamudu Bawumia
, a former Minister of Trade and Industry, Alan Kwadwo Kyerematen, MP for Assin Central, Kennedy Ohene Agyapong, a former Minister of Justice and Attorney General, Joe Ghartey, a businessman and energy expert Kwadwo Poku, a former Minister of Energy, Boakye Agyarko, a former NPP General Secretary, Kwabena Agyei Agyepong, a former MP for Mampong, Francis Addai-Nimoh, a former Minister of State, Dr. Kofi Konadu Apraku and a former Minister of Food and Agriculture, Dr. Owusu Afriyie Akoto.
You can also watch this episode of People & Places here:
Watch the latest episode of Everyday People on GhanaWeb TV below:




You can also watch this feature on climate change and its impact on fish and sea life:





Share your news stories and ideas with GhanaWeb




To advertise with GhanaWeb




AM/SARA