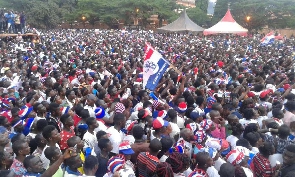 The ruling New Patriotic Party (NPP) risks losing majority of its members in the Ashanti Region to opposition parties should it fail to conduct free and fair parliamentary polls.
Party activist, Kwabena Frimpong, warns top executives will have themselves to blame should the party fails to resolve the growing tensions that are being recorded ahead of the elections.

Frimpong, who narrates how some party regional executives have schemed to manipulate the party's album, said their action could jeopardize the party's electoral fortunes in the region.

"It is evidently clear, that here in Ashanti Region and even in parts of the country, some regional executives had tampered with the album which has been used in several elections because of their selfish and parochial interests," the NPP activist stressed.

His comments come on the back of the rising tensions in some constituencies across the country, especially in the Ashanti Region, the party's stronghold — ahead of this year's primaries.

Citing attempts to get aspirants to go unopposed, delisting of delegates from voter album among other electoral irregularities, Mr Frimpong told Kumasi-based Boss FM that the move will be fiercely resisted.
"The National Executive Committee should note that anytime the party is voted out of power, they will be the first to blame. If for some reason a regional chairman will temper with an album then they should be ready to face the backlash," he warned.

The NPP is expected to conduct this year's presidential and parliamentary primaries on June 20, 2020.

The election which was earlier slated for April 25, 2020, was postponed indefinitely due to the Covid-19 pandemic in the country and the related restrictive measures announced by the President.

The party, at a meeting on Monday, June 1, agreed to hold the election in electoral areas rather than at the constituency level in order to ensure social distancing.