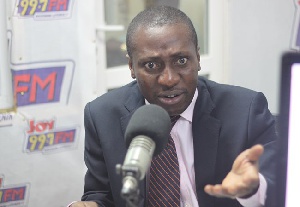 The New Patriotic Party (NPP) has observed that though it is in government, its stance on the two ex-Guantanamo Bay detainees brought into the country by the previous administration still remains valid politically and unchanged.
"If I an opposition leader and suddenly I get to know there are ex-detainees in my country and there was no such level of consultation and even the parliament of the Republic was not engaged and comes to my notice again that even Members of Parliament (MP) are not aware, what do you expect the opposition leader to say" former ranking member Defence and Interior Committee, Hon. Afenyo Markin asked.

"of course there is a blend of legal argument and political argument and if you want the political story to be told then you go on and look at it with a political eye", he disclosed.

"The NDC's argument that they came under Article 73 is not attainable. …Article 73, 74 and 75 has to do with international relations so the 73 is just giving you power" he pointed out during panel discussion on Joy FM's Newsfile.

"When you are reading a law you do not have to read a section of it and leave others. …looking for areas to convince will not be helpful. I see NDC's arguments as more political than legal", he observed.
"Government of Ghana shall conduct its international affairs in consonance with the accepted principles of public international law and diplomacy in a manner consistent with the national interest of Ghana" the legal private practitioner quoted from the Constitution", he buttressed his argument

The NPP in opposition castigated the then National Democratic Congress (NDC) government for failing to bring the deal of two detainees from the United States to parliament for approval.

Supreme Court recently ruled the deal be sent back to parliament for ratification or the two be deported after two Ghanaians citizens dragged the State before the court to seek an interpretation of the government's decision.

"If your own cabinet comes out to say they are not even aware what do you want the opposition leader to say? In any event today, the law and the position as espoused have been confirmed, we needed to engage parliament for ratification", he stressed.