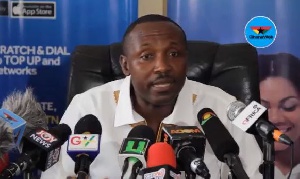 The New Patriotic Party (NPP) has hinted of plans to reschedule the date for its National Delegates Conference since it coincides with this year's Eid al-Fitr celebrations which fall on June 15, 2018, an official has said.
"You see, festivities such as Eid al-Fitr and Easter don't have specific dates, hence party's leadership didn't have an idea on the exact day it falls. Since our attention has been drawn to it, quickly we shall consider and shift it" Mr. John Boadu who is the acting General Secretary of the NPP confirmed on Angel FM Wednesday.

The NPP announced on Tuesday it was going to hold its National Delegate Conference in Koforidua in the Eastern Region from June, 15 to 17 2018. A date which Mr. Boadu said it's part of the event time set as far back as December 2017 during the party's Extra Ordinary Delegates Conference held in Kumasi.

This year's congress will elect a new set of national officers who will run the affairs of the party for the next four years.

The congress is being held pursuant to Article 10(2) and (3) of the NPP constitution which mandates the National Annual Delegates to meet at least four weeks after last Regional Annual Delegate Conference.

Meanwhile, the Muslim Community will celebrate Eid al-Fitr on 15th June this year have expressed some reservations on the date set for their party's conference since its announcement on Tuesday.
But Mr. John Boadu explained that the fixed date for the party's conference was not intended to hinder Muslim faithful from taking part in the elections as planned.

He, however, acknowledged the fact that NPP has lots of Muslim members who will celebrate on the day adding that they (Muslim) are not going to do it alone.

"On the day, it's not only our brothers Muslims who will celebrate, we all do with them, therefore, there is no way the NPP will let them travel to our conference". Mr. John Boadu noted.

He further called for calm saying there is no need for their Muslims to get angry because the party will not in any way stop them from taking part in the annual celebration.

"We plead with you, this is not intentional". He begged.