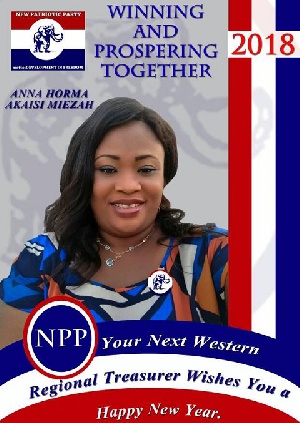 Thu, 11 Jan 2018 Source: Skyy power fm
Western Regional New Patriotic Party Treasurer hopeful, Miss. Anna Horma Akaisi Miezah has scored the Akufo-Addo-led New Patriotic Party government high marks as it turns one year in office.
According to her the measures and interventions the government has rolled out are clear manifestations of its unalloyed intention to emancipate the country from the spectre of mismanagement that characterized the administration of the previous Mahama government.

She noted that when the NPP was in opposition one practice the party argued often lead to corruption was sole sourcing.

Horma Miezah said so the President Nana Addo has appointed a Minister in charge of Public Procurement to ensure all procurement are done devoid of any corrupt practices stressing this commendable step can only come from a government that has the supreme interest of the country at heart.

She also mentioned the school feeding program, restoration of allowances among others which have brought great economic relief to Ghanaians as her basis for scoring the NPP government high marks.

But Horma Miezah is imploring Ghanaians especially women to exercise patience since many of government's programs of interventions are yet to run their full course.

Addressing traders of shed 5 at the Takoradi Market Circle in Sekondi-Takoradi as they celebrate their one year anniversary, Miss. Horma Miezah assured the market women 2018 will witness rising profits and full employment due to the good policies of the government.
She urged them to continue to be resilient and pray that God will continuously grant the president and his appointees the wisdom to rule.

The Regional Treasurer hopeful in a later interaction with Skyy news about her political ambition said the position is not just about someone who will keep the party's money but someone who can equally raise and attract funds for activities.

"The treasure position is not just about keeping the money. It is about looking at profitable and proven avenues to invest in the party's resources to generate enough funds to finance the party's activities"

"Because we are not going to wait till 2020 before we start looking for funds to support the party… we are going to start now, get people together and whatever money we have and luckily because of my financial background we will know what to do in terms of investing the money to make sure we get enough funds before 2020".

"So my administration will take a professional approach", she revealed.
Source: Skyy power fm