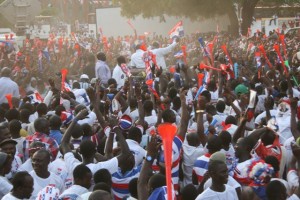 The Patriotic Youth Movement for Change, a volunteer group within the New Patriotic Party, organized a health screening exercise at Akweteyman in the Okaikoi North Constituency of the Greater Accra region on Saturday, October 15, 2016.
Over one thousand adults and children from Akweteyman and surrounding areas benefitted from the health screening which included, among other things, checking of vital signs, laboratory testing for blood sugar level, consultation with medical doctors and paediatric consultation. The residents were grateful for the health services provided, as they lamented the high cost of health care and the frustrations associated with the National Health Insurance Scheme (NHIS) which is on the verge of collapse.

Ms. Yaa Gyamera Aboagye, President of the Patriotic Youth Movement, assured the residents that Nana Addo is fully committed to making health care accessible to all Ghanaians, irrespective of tribe or creed. The NPP will therefore revive the NHIS as a matter of urgency.

She also assured the people that a vote for Nana Addo and Mr. Fuseini Issah, the NPP Parliamentary Candidate of Okaikoi North, is an endorsement of the NPP's plan to create prosperity and equal opportunities for all Ghanaians. The NPP will put national interest first and put an end to the sky-rocketing taxes and utility bills, and current economic hardships brought about as a result of the incompetence and mismanagement of the Mahama-led NDC government.
She emphasized that residents of Akweteyman Zongo will benefit from the Zongo Development Fund, an initiative of the NPP to revive the zongos and create opportunities for wealth creation within the zongos.

Ms. Gyankroma Akufo-Addo, daughter of Nana Addo Dankwa Akufo-Addo, joined the members of the Patriotic Youth Movement to serve the people of Akweteyman through the health screening. She indicated that she cares deeply for children. She therefore urged all to vote for Nana Addo and Fuseini to ensure a bright future for the children of Ghana.

Mr. Fuseini Issah assured the people that as MP, he would prioritize health care issues in Okaikoi North. He expressed his profound appreciation to the Patriotic Youth Movement for their immense support and contributions. He reiterated his commitment to work for the development of Okaikoi North and Ghana.