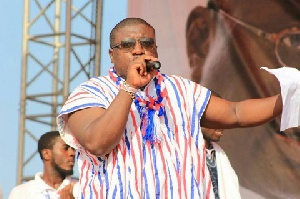 The New Patriotic Party (NPP) has slammed the National Democratic Congress (NDC) as an irresponsible opposition party which lacks ideology in moving the nation forward.
According to the party, the NDC allegation on President Nana Akufo-Addo's running a family and friend's government was a clear indication of incompetence and irresponsible opposition government.

Speaking at a press conference in Accra on Thursday, Nana Boakye, the National Youth Organiser of the NPP, indicated that appointments of the NPP government were based on competence and charged the NDC to focus on bringing debatable policies, social interventions and programmes towards national development.

The NDC at a press conference on Tuesday presented names of persons it claims were friends, relatives and cronies within the Akufo-Addo-led administration when Sammy Gyamfi, the National Communications Officer of the NDC, listed 51 names of whom he allegedly pointed to 'classic and unprecedented' nepotism.

But Nana Boakye lamented the popular tag "family and friends" government, originated from the NDC, when Ekwow Spio-Garbrah, a former Minister of Trade and Industry, accused former President John Mahama of running family and friends government and not NDC.
"The Chairman of the NDC, Ofosu Ampofo on August, 23 2017, stated emphatically that he is a strong believer of family and friends style of government, because Ghanaians are the ones employed and another former Central Regional Chairman of the party, Allotey Jacobs, took a swipe at the leadership of the party and described the 51 names as needless and useless, as the party must go to the grounds and work.

"The NPP can also come out with a tall list of people and their relations in the erstwhile Mahama-led administration but that will be too cheap and unproductive as the citizenry prefer alternative ideas to issues confronting them," and insisted that "out of the 51 names they put out 33 of them have no real family relations with the president.

"Even though they are members of the NPP who deserve to serve the nation based on their competence, dedication and commitment to national growth and development of the country and the NPP has not given out national assets to friends, relatives and cronies as happened in the previous administration and the party will never employ "enemies to work with"," Nana Boakye maintained.