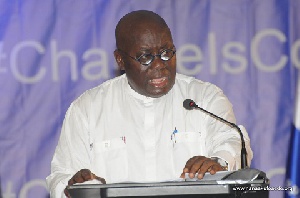 The agricultural sector has been largely neglected under the government of the National Democratic Congress (NDC) in the last eight years, Nana Akufo-Addo has said.
"Budgetary allocation to the sector has been reducing consistently – from 4 per cent in 2009 to 1.1 per cent, as contained in the 2016 budget. It, therefore, comes as no surprise that growth rate in the sector, which stood at 7.4 per cent in 2008, the last year of the NPP administration, was only a dismal 2.4% in 2010," the flag bearer of the opposition New Patriotic Party has said.

In his Farmer's Day message, Mr Akufo-Addo assured farmers and fisherfolk that the blessing of oil will not distract a future NPP government from growing the agricultural sector and making it more modern, more efficient and, therefore, more productive.
"Access to finance, improved training and technology, reducing post-harvest losses, extending feeder roads and farm tracts to as many farm gates as possible, increasing irrigation facilities, and guaranteeing markets for our farm produce are going to be the nucleus of this approach. All these would be implemented in close collaboration between the District Assemblies and the field staff of the Ministry of Food and Agriculture. Farmers should have a cause to look forward to tomorrow with belief and joy" he assured.

Mr Akufo-Addo congratulated all award winners in this year's National Best Farmers' Day Awards and expressed his sincere appreciation to farmers and fisherfolk for their hard work and commitment to the cause of building Ghana over the years.