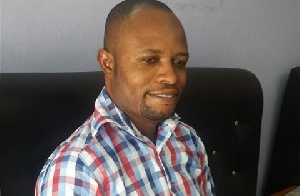 Member of Parliament (MP) for the Mahyia North constituency in the Ashanti Region, Collins Owusu Amankwah has described National Communications Officer of the opposition National Democratic Congress (NDC), Sammy Gyamfi as a witch over claims President Akufo-Addo is a nepotistic leader.
According to him, only persons with witchcraft will express dissatisfaction about the appointments of President Akufo-Addo since he took over power from the NDC.

The NDC has accused President Akufo-Addo of stocking his government with his family and friends. In its Moment of Truth Press Conference, Mr Sammy Gyamfi released a list of 51 names of persons he claimed are relatives and cronies in the Akufo-Addo government.

The NDC also said the President has broken his promise not to run a family and friends government, thereby calling for the passage of an anti-nepotism bill in the country.

In reply, Hon Collins Owusu Amakwah called the bluff of Sammy Gyamfi and described him as "witchcraft" and "evil" for being spirited in lies and propaganda, stating that the names in the NDC's list have no direct family ties with the President as claimed.

"If what Sammy Gyamfi did is not witchcraft, then what again? He is evil", he fumed.
Speaking on UTV late news on Wednesday and monitored by Ghanaguardian.com, the Manhyia North lawmaker called the allegations of nepotism "frivolous and unsubstantiated".

He challenged the NDC to prove the unsuitability of persons it named in their list.

"Let's assume that the names they listed are even true, are they not competent, they should prove to us ..or Sammy Gyamfi was expecting the President to appoint him and his incompetent people?", Hon Amankwa quizzed.

He also indicated that he was shocked at the "old men" within the opposition party for allowing themselves for "small boy" Sammy Gyamfi to be misleading them with a supposed nepotism list.