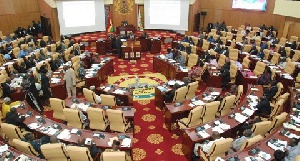 Thu, 4 Jul 2019 Source: Kofi Assor
The scorn is still pouring on the outrageous idea of building another Chamber of Parliament and the latest to add his voice to the chorus of disapproval is Mr. Ralph Apetorgbor, a member of the opposition National Democratic Congress (NDC) national Communication Team.
"That idea at this time when our Parliament is actually one of the adequate places we have in Ghana is a socio-criminal one," Mr. Apetorgbor spat in an interview.

He pointed out that while Parliamentarians work in an air-conditioned chamber their constituents are still dying from Malaria, typhoid and other third world diseases because most of them stay in remote villages that do not have even electricity.

"To ask for a new chamber now is an unconscionable abomination against our brothers and sisters who have to walk miles and brave snake bites just to access education," he said

Ghana's parliament is considering building a new ultramodern chamber to serve the lawmakers.

The Parliamentary Service Board has already received the architectural model for the new chamber from renowned Ghanaian architect David Frank Adjaye, the same designer of the National Cathedral.

The 450 –seated chamber which would cost the taxpayer $200 million will come with a chapel, mosque, restaurant, interview area and a museum.
The current parliamentary chamber which can seat up to only 270 MPs will be turned into an auxiliary conference facility for parliament and construction is expected to begin before the end of 2019.

However, Mr. Apetorgbor who doubles as the Deputy Communications Officer for the NDC Anya Sowutuom constituency in an interview said that the size of the chamber is not enough excuse to splurge 200million on a new Chamber.

"That Parliament chamber has room enough to accommodate any few extra MPs that are going to come from the creation of new regions. Better still, there is always room for architectural expansion," he said.

Besides, he said, such an investment is not even justified in a house plagued with chronic absenteeism.

Ralph Apetorgbor also expressed suspicion that the idea may be originating from envy from some Parliamentarian leaders who easily see the new Law Court Complex built by the late President Mills for the Judiciary which had so long suffered the indignities of sharing courtrooms with rats.

He urged the government to rather concentrate on fulfilling the plethora of its unfulfilled promises and asked that any NDC MP who supports the idea of building a new Chamber for Parliament be reprimanded by the party.
Source: Kofi Assor