No former Prez who loves Ghana will gather diplomats and do what 'treacherous' Mahama did - Dela Coffie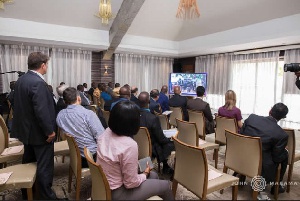 An activist of the opposition National Democratic Congress (NDC) Dela Coffie has said former president John Mahama's encounter with members of The diplomatic corps smacks of treason.
Ex-president Mahama on the 13th day of February this year gathered some foreign diplomats and made an audio-visual presentation to them by way of cataloging what characterized the by-election at the Ayawaso West Wuogon. It is the contention of the NDC as a party that NPP has introduced their party militias into the National Security apparatus.

Government has since condemned Mr Mahama for what it says is an "unpatriotic" act.

But NDC activist Dela Coffie who has himself been accused of being fraud for duping NDC members of the public believes former president John Mahama is being a hypocrite.

He called on Mr Mahama to stop the treachery and apologize to Ghanaians.

See his full opinion:
So Mahama is not remorseful about his despicable act of treachery against the state? And he's still out there defending his actions?

Which former foreign leader would dare put together half truths like Mahama did to spite a country he once led? Someone explain to me why Mahama feels he has to meet with foreign diplomats on election violence only when he's no longer president? Anywhere else such actions would be considered treason, and coming from a former president, it leaves much to be desired.

This is a by-election which was characterised by violence and being investigated and even condemned by many institutions. And rightly so, a commission is in place to look into the matter. So why should the former president organises international diplomats and show them some videos and claim that the violence was perpetrated by the government deliberately?.

Is Mahama not aware that his pronouncements are critical to the ongoing work of the commission and other criminal investigations? Shouldn't Mahama be helping the Short commission with his so-called evidence?

For me there was nothing much to the Ayawaso by-election incident. We have seen far worse by-elections in Talensi, Atiwa, and Chereponi. Why didn't Mahama make the same noise he is making today when violence took place in by-elections in not only one but all the constituencies mentioned above at the time he was in government? The same people who could care less at the time has suddenly discovered that we should invite foreigners into the affairs of a sovereign state like ours?
It's amazing how people can convince themselves of just about anything. So much that a former president of Ghana is able to sell his country to foreign spies and still wants to become president.

Mahama and his minders and front men have no education in effective diplomacy, successful tactics, or how to project true strength. Their only interest is another bite at the cherry, just so they can take their gluttonous self-indulgence to a dizzy height.

Mahama is definitive proof that the NDC is indeed in a leadership crisis, and I wonder if the NDC will ever recover from this.

Then again, it is time for the good party folks in the NDC to rise up point out some pressing perceptions to our leaders. We must together tell the former president to stop being a misbehaving schoolboy, or better still an untrained housepet. And while we're at it, let's add a bit of sophistication to our propaganda politics. There is a lot we can do collectively to chase the elephant back into the bush but certainly not this kind of pedestrian and juvenile politics.