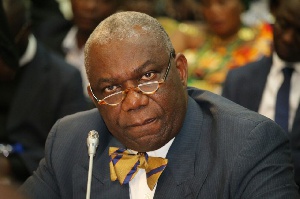 The former Minister of Energy, Mr Boakye Agyarko, has assured the New Patriotic Party (NPP) leadership and supporters of total support and loyalty to the party as it prepares towards retaining power in Elections 2020.
He therefore admonished members who were seeking to defect from the party or cause mayhem through demonstrations to eschew such thoughts; "There is no alternative to the NPP as far as the progressive development of this country goes.

"We must stay within to deal with our differences; NPP is a big family working towards a common goal of transforming this country through creating prosperity and equal opportunity for all".

Mr Agyarko stated during a solidarity visit by a group of NPP Eastern Regional Executives and some party stalwarts at his residence at Krobo Odumase, over the weekend.

The former Energy Minister explained that; "the NPP is our party. As such we cannot abandon the ship just because of a few challenges that we are not happy about.

"For a party as enshrined as the NPP, there are bound to be problems and there are bound to be dissenting views and actions that we may not be happy about. However, it behoves on us to stay within the party and help in resolving whatever we think the problems or issues are. That is the surest way to building a strong and a resilient party".
When asked by a party stalwart on why he has not come out with his side of the story, Mr Agyarko noted that in the midst of what was happening, " as a loyal, dedicated and committed member of the party, am being extra careful not to do anything to make the party and government look bad.

"The collective interest of the NPP as a party is bigger than our individual interests".

Some executives praised the former Energy Minister for his sterling performance at the ministry.

Since his unfortunate dismissal, the Former Minister continued to receive delegations and solidarity messages from many NPP faithful.

President Nana Addo Dankwa Akufo-Addo on August 6, relieved Mr Agyarko of his position as then Minister of Energy, following the controversy surrounding the review of the Ameri power deal.
A News statement signed and issued by Mr Eugene Arhin, Director of Communications at the Presidency, said President Akufo-Addo by a letter dated August 6, 2018, "relieved the Minister of Energy, Mr Boakye Agyarko, of his position, with immediate effect.

"The President wishes Mr Agyarko well in his future endeavours".