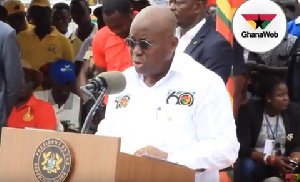 Tue, 3 Oct 2017 Source: GNA
President Nana Akufo-Addo has stated that he would deliver on all the promises he made during the 2016 election campaign period to demonstrate that not all politicians make promises just for purposes of gaining political votes.
He said when politicians make promises they could not honor, it weakened the trust of the people which according to him was not good for democratic governance, hence the commitment of his government to redeem all its promises.

President Akufo-Addo stated this while addressing members of the Upper West Region House of Chiefs in Wa on the first day of his seven-day tour of the Upper West, Upper East, and Northern Regions.

He stated that a nation without a strong agricultural base was a nation at risk, hence government's commitment to the successful implementation of the "Planting for Food and Jobs" (PFJs) programme which had already seen the registration of 183,000 farmers out of a target of 200,000 farmers.

The President said through the PFJs programme, Ghanaian youth who completed colleges of agriculture without jobs had now been engaged.

President Akufo-Addo noted that it had become a critical to ensure that all Ghanaian children went to school to learn something to be able to survive in the modern world.
He said despite this necessity, in the next 10 years, one million Ghanaian children stood the risk of terminating their education at the Junior High School (JHS) Level.

He said it was for this reason that the Free Senior High School (SHS) policy was introduced to ensure that every Ghanaian child had access to education at least to the SHS level.

On the National Health Insurance Scheme (NHIS), the President noted that government had paid GHC 560 million out of its indebtedness of GHC1.2 billion.

On security, President Akufo-Addo expressed worry that in the past, over 500 police officers were transferred out of the region without any replacement, saying his government posted 202 police officers to the region to improve police visibility and subsequent reduction in criminal activities.

Kuoro Richard Babini Kanton IV, Paramount Chief of the Tumu Traditional Area and President of the Upper West Region House of Chiefs commended the government for its commitment to the welfare of the Ghanaian people through its social intervention programmes.
Kuoro Babini Kanton who is also a Member of the Council of State disclosed that a total of 40 cases were brought before the house out of which three had been disposed of, while others including 25-year-old and 19-year-old cases were at advanced stages of being disposed of.

He said the house was keen on achieving the national target on disputes and urged all to support the house to enable them to sit regularly on the cases.

The Paramount Chief appealed to the President to help complete the house's office complex for them to avoid meeting important dignitaries at rented promises.

Kuoro Babini Kanton also appealed to the President to pay attention to the call for the Wa campus of the University for Development Studies (UDS) to be granted autonomy to become a fully fledged University also called for the upgrading of the Wa Polytechnic to a Technical University.

While urging the government to put finishing touches to the Wa Airport for the commencement of domestic flight to and from the region, Kuoro Kanton also appealed for the completion of the Lawra-Nandom-Hamile road, Wa-Tumu-Navrongo road, and the Wa Regional Hospital to cater for the health needs of patients in the region
Source: GNA