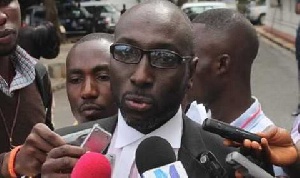 A member of the communication and legal teams of the National Democratic Congress (NDC), Abraham Amaliba, is of the opinion that nothing seems to be working in Ghana under President Nana Addo Dankwa Akufo-Addo.
"The situation is hopeless," he stressed.

The politician-cum-lawyer was speaking on TV3 Wednesday in the wake of the commendation of the current government by the Emir of Qatar, Sheikh Tamim bin Hamad Al Thani.

Sheikh Hamad Al Thani praised President Akufo-Addo for his leadership skills over Ghana for the past 22 months.

This was during the one-day official trip made to the Gulf state by the president.

Five memoranda of understanding (MOUs) were even signed during the trip.

But Mr Amaliba claims the Sheikh has clearly lost touch with happenings in Ghana, fundamentally based on his location.
According to him, for the first time in the history of Ghana, mortuary attendants are threatening to strike under the watch of President Akufo-Addo.

He said citizens are losing their jobs while the cost of living continues to grow.

Things are worsening by the day, he observed.

'Diplomatic niceties'

He claims the Emir may not know what is happening in Ghana because "he is miles away and so may not have the opportunity to know what is happening in Ghana".

For him, the Emir is engaging in "diplomatic niceties" for the sake of it.
He said if the Emir had taken time off to find out from his envoy in Ghana, he would have told a different story.

"These are not good times for Ghana," he lamented over the hardships, citing how the government cannot fix "ordinary" footbridges on roads leading to the death of pedestrians.

"About 90 per cent of things happening in our nation is wrong."